Mishimoto MMLG-15-LOCKNC Aluminium Locking Lug Nuts, M12 x 1.5, Neo Chrome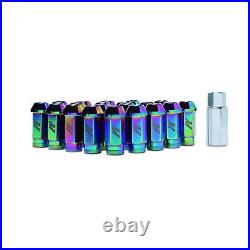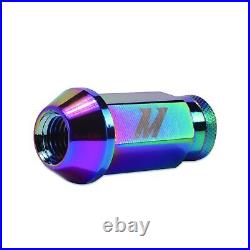 Upgrade your vehicle's exterior with a set of Mishimoto aluminium Locking Lug Nuts! These lug nuts are constructed from a single piece of 7075-T6 aircraft-quality aluminium and are the perfect complement to both stock and aftermarket wheels. These lug nuts weight in at just 0.8 oz (22.68 g) each and provide a lightweight yet durable alternative to your stock lug nuts. Each kit includes 16 standard lug nuts, four locking lug nuts, and one key for removal.
These lug nuts utilize an open-ended design with a total length of 50mm, and a knurled end for speedy installation. Mishimoto lug nuts are available for both M12 x 1.25 and M12 x 1.5 wheel studs and come in a variety of finishes including black, blue, silver, red, or neo chrome.