Lrc1127wb 18 Black Alloy Wheel Nuts, Locking Nuts And Heavy Duty Wheel Brace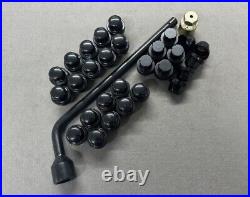 Land Rover Discovery 1 Defender 18 black alloy Wheel nuts. With Black Locking Nuts and heavy duty wheel brace. DISCOVERY 1 & DEFENDER WHEEL NUT SET.
COMES AS A FULL SET OF 18 WHEEL NUTS FOR ALLOY WHEELS WITH A SET OF 5 LOCKING WHEEL NUTS WITH THE LOCKING WHEEL NUT KEY - PERFECT IF YOU HAVE COSTLY ALLOY WHEELS OR TYRES. COMES COMPLETE WITH A BRAND NEW HEAVY DUTY WHEEL BRACE. WE ALSO OFFER THESE WHEEL NUTS AS A SET OF 20 WITHOUT LOCKING NUTS IF YOU PREFER THE BUDGET OPTION. PLEASE CHECK OUT MY OTHER LISTINGS.