Locking Wheel Nut Remover Master Kit Set used by AA and RAC. LATEST KIT AST6165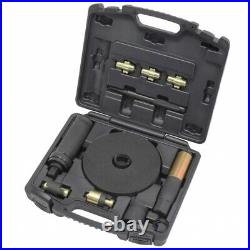 Locking Wheel Nut Remover Set as used by AA and RAC. Locking Wheel Nut / Bolt Removal Kit - BMW - Ford - Opel/Vauxhall - PSA - VAG - Volvo. AST6165 provides a method of removing locking wheel nuts / bolts when the specialist key is not available.
Simple operation: Select one of the 5 adaptor sizes from the kit, locate centrally on the head of the bolt and install using a lump hammer on the tool body. Next, use the supplied impact driver to release the locking wheel bolt. A ratchet or power bar can also be used as required to release the bolt. Individual parts within the set.
Tool Body with locking shroud. Key Sizes available within the set.
1: 3 x Double ended'mouldable' key - typical applications include McGard bolts used by BMW, Opel/Vauxhall, VW Group and many other manufacturers. 2: Typical applications include PSA. 3: Typical applications include Opel/Vauxhall, PSA. 4: Typical applications include the latest Ford and Volvo models.