Jaguar Locking Wheel Nut Key 2 4 9 12 16 23 31 36 40 42 48 52 53 72 77 83 97 98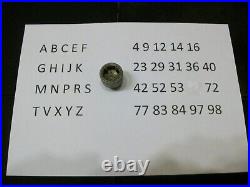 Key 67 is listed separatetely. LISTING IS FOR ONE KEY. Also available for collection M25 J9.
These keys are a bit of a nightmare as you probably already know. I work hard to keep on top of all the vaguaries but some minor variations conspire to make life difficult. I will contact you before sending better to ensure you get the correct tool speedily first time.
In the rare event that you do not please be patient and assured that I will strive hard to get you sorted even if the fault is not mine! Also have keys 4 29 84. LETTERS IN PICTURE RELATE TO THOSE ENGRAVED ON OLD STYLE LOCKING NUTS ONLY NOT THOSE ON MORE RECENT KEYS FOR DOMED LOCKING NUTS!
Used with marks, condition and shininess varies. They have been used and may have some rust, marks or not be quite their original shape but guaranteed working and tested on nuts tightened to the specified torque. These tend to fit the older, slotted locking nuts which originally had the slide off covers.
It also helps to know the diameter of your broken key/wheel slot as some keys are wider than others. The letters in the picture relate to a code on SOME nuts or other records so it may be possible to discern which key you need if you have lost yours and have no record of it!! I DO HAVE A RECORD WITH CROSS REFERENCES ON IT.
Numbered keys will not undo the newer style nuts with LETTERED KEYS. I ALSO HAVE A REMOVAL SERVICE LISTED. Note: Items supplied may vary slightly from this picture as stock changes regularly.
I will send you a picture of exactly the ones I will send if you message me. Most buyers are not bothered about shininess as long as the keys are in good condition.