Dynomec XL Kit Dy025xl Locking Wheel Nut Set Removal Inc 5 Extra Free Blade C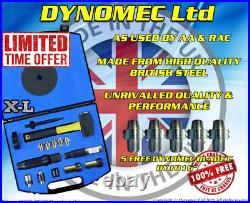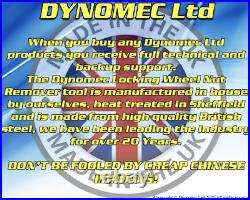 DYNOMEC locking wheel nut remover XL comprehensive master set. 5 EXTRA BLADE C FREE - LIMITED TIME OFFER! As used by the AA, recovery services, garages and tyre shops. Patent Pending removes most types of wheel lock nuts and rounded wheel nuts. Detailed instructions on tool usage and lock nut types are included with the set.
Set includes all the currently available blades. 1 x A blade made from S1 steel.
1 x B blade made from S1 steel. 5 x C blade for McGard style nuts. 1 x D blade made from S1 steel. 1 x Range Rover blade.
All parts contained in the set are consumable items due to the nature and usage of the tool. Parts for this set are available individually. For spare parts availability and further information ring 07836 374725.