Black Alloy Wheel Locking Nuts For Range Rover Sport Set 4 Locks Rrb500100black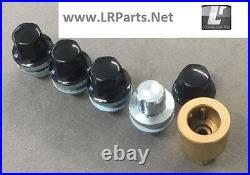 Range Rover Sport ALLOY Wheel Locking Nut Set In Black Gloss. RANGE ROVER SPORT WHEEL NUT SET.
COMES AS A FULL SET OF 4 LOCKING WHEEL NUTS FOR ALLOY WHEELS IN BLACK GLOSS WITH THE LOCKING WHEEL NUT KEY - PERFECT IF YOU HAVE BLACK OR GREY ALLOY WHEELS AND NEED TO KEEP THEM SECURE. WE ALSO OFFER THESE WHEEL NUTS AS A SET OF 20 WITHOUT LOCKING NUTS IF YOU PREFER THE BUDGET OPTION OR A SET OF 16 WITH LOCKING NUTS FOR A FULL SECURE SET. PLEASE GIVE ME A CALL ON 0151 486 0066 IF YOU WANT 20 NUTS.