Black Alloy Wheel Locking Nuts For Range Rover L322 Set 4 Locks Rrb500100black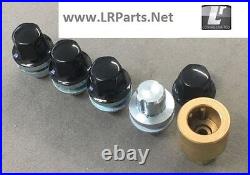 Range Rover L322ALLOY Wheel Locking Nut Set In Black Gloss. RANGE ROVER L322 WHEEL NUT SET. COMES AS A FULL SET OF 4 LOCKING WHEEL NUTS FOR ALLOY WHEELS IN BLACK GLOSS WITH THE LOCKING WHEEL NUT KEY - PERFECT IF YOU HAVE BLACK OR GREY ALLOY WHEELS AND NEED TO KEEP THEM SECURE. THESE WILL ONLY FIT VEHICLES WITH WHEELS FROM 2006 ONWARDS FITTED.
PLEASE ENSURE THIS IS CHECKED. WE ALSO OFFER THESE WHEEL NUTS AS A SET OF 20 WITHOUT LOCKING NUTS IF YOU PREFER THE BUDGET OPTION OR A SET OF 16 WITH LOCKING NUTS FOR A FULL SECURE SET. PLEASE GIVE ME A CALL ON 0151 486 0066 IF YOU WANT 20 NUTS.